9 Dutch (Co-)Productions at Annecy 2021
As Annecy International Animation Film Festival approaches, we get more insight on which animation productions will represent the Dutch film industry. It seems promising, as we have a total of 9 (co-)productions present at this year's event. This includes majority as well as minority productions. Before the event starts at June 14th, let us have a look at the diverse line-up.
World Premiere for Coppelia
Submarine production Coppelia** will have its world premiere at Annecy in a screening event. Coppelia, directed by Jeff Tudor, Steven De Beul and Ben Tesseur, combines enchanting animation and live action dance in a modern retelling of the story of Swan and Franz, whose love is jeopardised by cosmetic surgeon Dr. Coppelius and his uncannily beautiful protégé Coppelia. International sales are handled by Urban Distribution International.
Ainbo in Screening Event
Next, Richard Claus and José Zelada's Ainbo: Spirit of the Amazon* also screens during a screening event at Annecy. Produced by Cool Beans, the film tells the story of Ainbo, who lives in the deepest jungle of the Amazon. One day she discovers that her homeland is being threatened by deforestation. With the help of her spirit guides Dillo, a cute and humorous armadillo, and Vaca, a heavy-set tapir, Ainbo embarks on a journey to save her homeland. Cinema Management Group handles sales for this film. Ainbo: Spirit of the Amazon and Coppelia are selected out of competition.
2 Shorts in Short Films Official Competition
See Me* by Patty Stenger and Yvonne Kroese screens in the Short Films Official Competition at Annecy. Produced by Family Affair Films, See Me tells the story of five-year-old Alice who is at a party for grown-ups with her mother. She tries to get noticed by her mother but she only provides Alice with practical needs: food and drinks. Feeling alone and scared, Alice creates her own little world together with the anchovies she found on her toast. In 2020, it got the Golden Calf for Best Short and in April it got awarded Best Dutch Short at the Kaboom Animation Festival. SND Films takes care of sales.
In the same category, Ka-Ching Cartoons' minority co-production Easter Eggs* also screens. In Easter Eggs, two young teenagers try to do something extraordinary in an ordinary village. It got selected for Clermont-Ferrand International Short Film Festival and Berlinale. Miyu Distribution handles sales.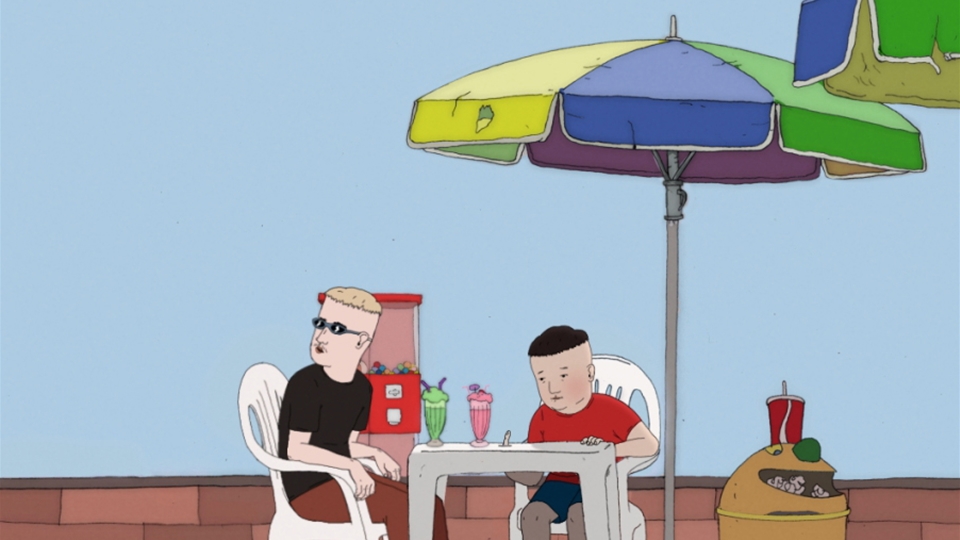 Ink in Young Audiences Short Films Competition
Two Ka-Ching Cartoons co-productions got selected for Annecy, as Ink* by Erik Verkerk and Joost van den Bosch also screens, this one in the Young Audiences Short Films Competition. In this ultra short and joyful animation, we see a clean-up neat-freak octopus trying to fix an unreachable dirty spot. Problems rise, as he tries to show the dirty splashes to the cleaning person who does not see them. Ink got selected for Clermont-Ferrand ISFF, New York International Children's Film Festival and won Cinekid and KuKi Festival Audience Awards. SND Films also does sales for Ink.
Morning Grass in Graduation Short Films Competition
We also have two international premieres at Annecy this year. One of them is Morning Grass by Alina Milkina, which screens in the Graduation Short Films Competition. Made at the AKV St. Joost Master Institute for Visual Cultures, in Morning Grass, while thinking too much about what future brings, on a summer day a young boy meets a spirit in the fields. This spirit shows him that life is unconventionally beautiful. See NL spoke with Milkina about Morning Grass and her future plans.
Away From Home "Rob" in Commissioned Films Competition
The other international premiere is Away From Home "Rob" by Sophia Twigt. Commissioned by De Volkskrant and Argos, we follow our lead character Rob. He takes a drag on a neighbor's crack pipe, his bills start piling up and one day, a letter arrives: his house is going to be repossessed. He packs a tent, gets on his bike and starts cycling. Away From Home "Rob" is part of an animated documentary series about three former homeless people. We had a talk with Twigt about her experiences in creating these animated stories.
Work in Progress Category
Annecy 2021 will also host projects that are still in development. Blind Willow, Sleeping Woman by Pierre Földes is one of them. A minority co-production by An Original Picture, it features animation based on the short stories by the great Haruki Murakami. Sales are handled by The Match Factory.
Finally, we have minority co-production by Il Luster, named Nayola**, which is directed by José Miguel Ribeiro. The story follows three generations of women, who have been stricken by war in Angola. Just like Coppelia, Urban Distribution International is handling international distribution for this project.
*This film was supported by the Netherlands Film Fund
** This film was supported by the Netherlands Film Fund and the Netherlands Film Production Incentive
Source: SEE NL